Topsy Walter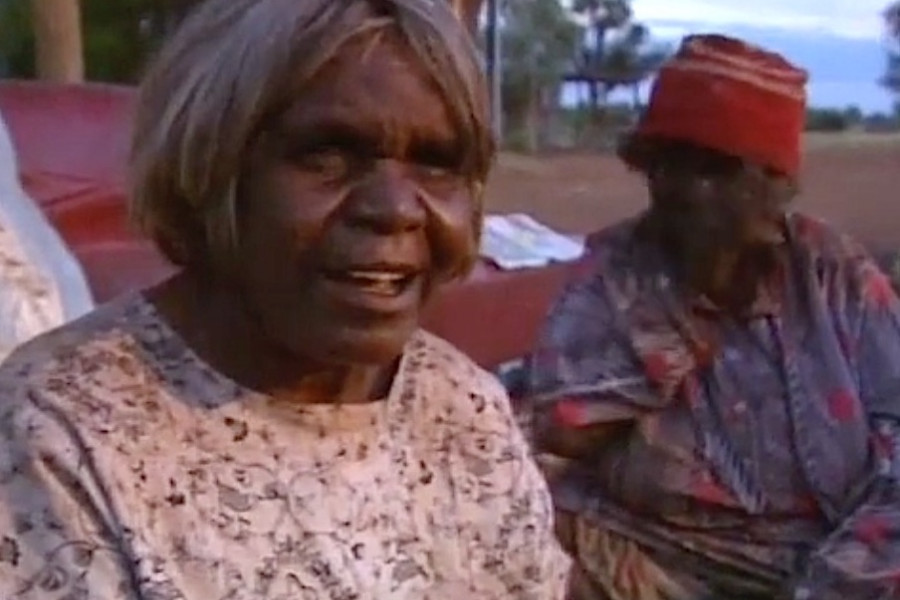 1991
Topsy Walter (Tjulyata) (1931-201?), with her husband Walter Pukutiwara, served on the original Ernabella Media Committee from 1985 and on the Pitjantjatjara Yankuntjatjara Media committee from its incorporation in 1986 until 1996, representing Mutitjulu Community. Topsy travelled on several Seven Sisters recording expeditions and demonstrated bush food preparation and woodcarving on EVTV videos.
She was an artist who made wooden objects, known as puṉu, by carving the wood and then engraving patterns (walka) into its surface with a burning wire - a technique is called pokerwork. She made both decorative sculptures and traditional tools, and he patterns engraved into the objects depict Tjukurpa, spiritual stories about creation ancestors from the Dreamtime.
Topsy began working in arts and crafts at Ernabella (Pukatja) in the late 1940s. While she was living there, she married Walter Pukutiwara. In 1981, Topsy and Walter went to Uluṟu and set up a tent at the base of Uluṟu. From there they sold their puṉu works to tourists for over two weeks.Eventually they founded a new craft centre at Uluṟu to sell artworks from around the region to tourists, and moved to Muṯitjulu so that they could help set up Maṟuku Arts.
Topsy was interviewed at Ernabella - where she was on the EVTV/PY Media Committee - shortly after returning from the trip to Kuruala to film the Seven Sisters Dreaming.
Refers to film: vimeo.com/578496380
On our country there are lots of story—lines everywhere, that our people kept strong in the old days, to protect then and keep us all strong. We went together to the tribunal. We argued strongly there, for us to keep our stories always on TV.
We went far away to Kuruala, the other side of Pipalyatjara. Many women were sitting together, singing at that beautiful place. We were performing Nyiru and the Seven Sisters. Men, women and children were singing together.
Men were stamping their feet in an absolutely beautiful dance, and we ignorant ones were listening to that song. Others that knew it were singing the song – the men were stamping really beautifully. Then we finished and came back to Ernabella.
Now the dance is on TV and everybody is watching. Absolutely lots are watching, even the ignorant ones. They are all watching the men dance beautifully. It's really beautiful…everybody is happy.