National Report on BRACS
by Neil Turner
---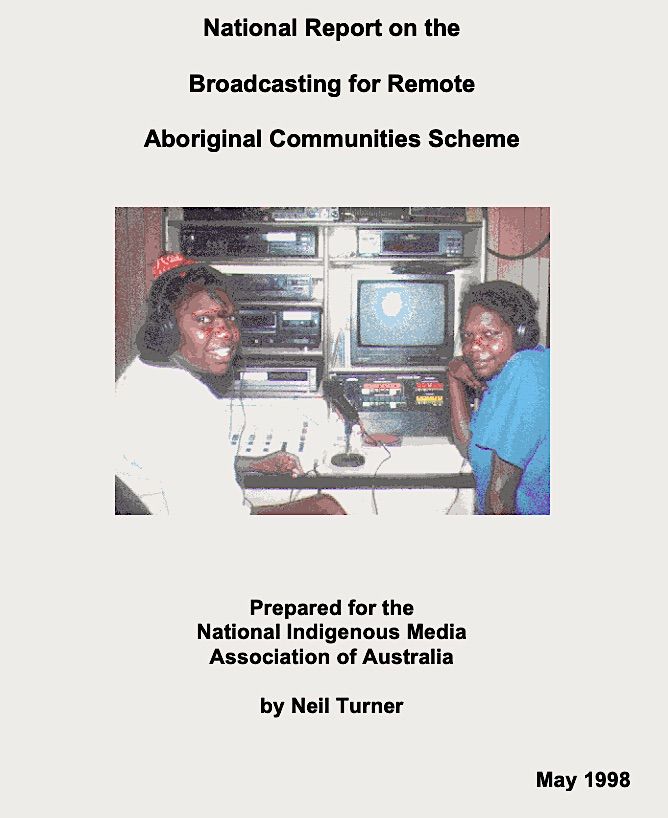 Turner, N. (1998) National Report on the Broadcasting for Remote Aboriginal Communities Scheme - Prepared for the National Indigenous Media Association of Australia.
'This report examines the existing status and future needs of BRACS - the Broadcasting for Remote Aboriginal Communities Scheme. It describes local radio and television broadcast facilities in 101 remote Aboriginal and Islander communities around Australia. A profile has been compiled for each community, to create for the first time, a national database which details contact numbers, location, retransmission services and frequencies, infrastructure, funding history, production equipment, personnel employed, training received and priority needs for each and every BRACS unit in the country. This database is already proving useful (eg: in determining the number of replacement satellite receivers required for the digital conversion of retransmission services) and it can continue to be expanded and updated on an ongoing basis.'
Neil Turner has been the manager of Pilbara and Kimberley Aboriginal Media (PAKAM) since 1996. Before that he worked on the Anangu Pitjantjatjara Lands for 11 years as Coordinator of Ernabella Video Television (EVTV) and Pitjantjatjara Yankunytjatjara (PY) Media. Neil received the Mr McKenzie Award for his contribution to remote Indigenous television in 2014. He currently serves as Secretary on the Board of ICTV.