Governing Cultural Difference
PhD Thesis by Philip Batty
---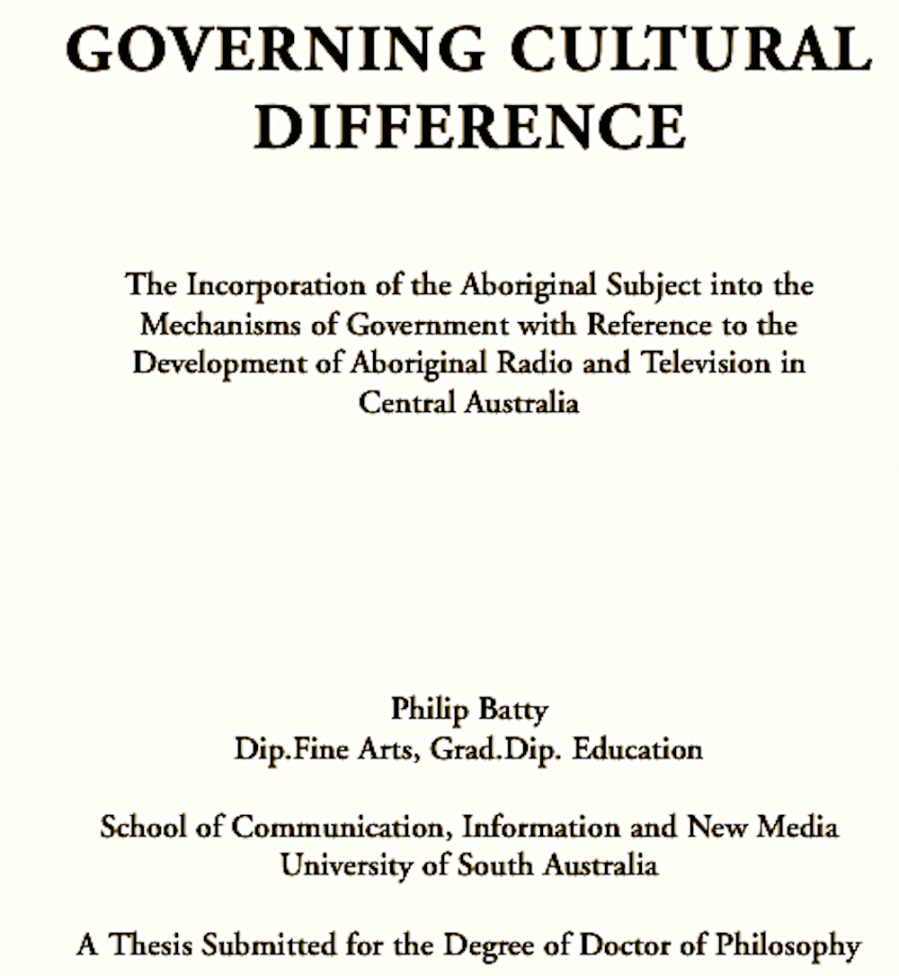 Batty, P. (2003) GOVERNING CULTURAL DIFFERENCE: The Incorporation of the Aboriginal Subject into the Mechanisms of Government with Reference to the Development of Aboriginal Radio and Television in Central Australia. PhD Thesis. University of South Australia.
'In undertaking this work, I have not attempted to construct a 'resistant' Aboriginal 'voice', positioned against 'the media establishment' and the state to explain […] transformations in Aboriginal policy. Although such a voice routinely appears in the literature on Aboriginal broadcasting, I argue that such an approach simply replicates the rhetoric surrounding the state's own policies of 'Aboriginal self-determination' and, more problematically, masks the complex operations of government itself. It also assumes the pre-discursive existence of a particular kind of Aboriginal agency, without considering the specific conditions that gave rise to it. In this study, I have sought to demonstrate how this agency was largely constituted through the policies of Aboriginal self-determination.
[…] In taking this analytical approach, I have adopted one of Michel Foucault's primary objectives which is to examine the ways in which the human subject is constituted through relations of power…'
Philip Batty co-founded and jointly managed the Central Australian Aboriginal Media Association, CAAMA from 1980-1991. After completing this PhD based he was appointed Senior Curator, Melbourne Museum, Australia.